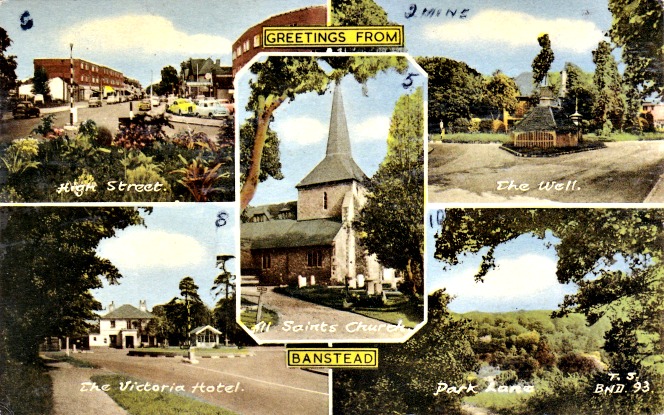 The Banstead Image Library
Where's the cherry tree-lined road?
This multiview postcard of Banstead is from the late 1950s or early 1960s.
The ballpoint numbers on the five images are inscribed by Ida, the sender of the card in July 1963. She and her husband have just moved into a house "on quite a pretty cherry tree lined road" – and she gives some clues as to where that might be: as you can just see from her ballpoint annotations, 2 mins from The Well, 5 from the Church, 6 from the (Library end of the) High Street, 8 from The Victoria Hotel and 10 from Park Lane (which isn't Park Lane at all – it's countryside along Park Road towards Chipstead.)
As for the cherry tree-lined road two minutes from the Well… any thoughts?
Published by F. Frith & Co of Reigate.
Picture added on 28 November 2017 at 16:32
Comments: