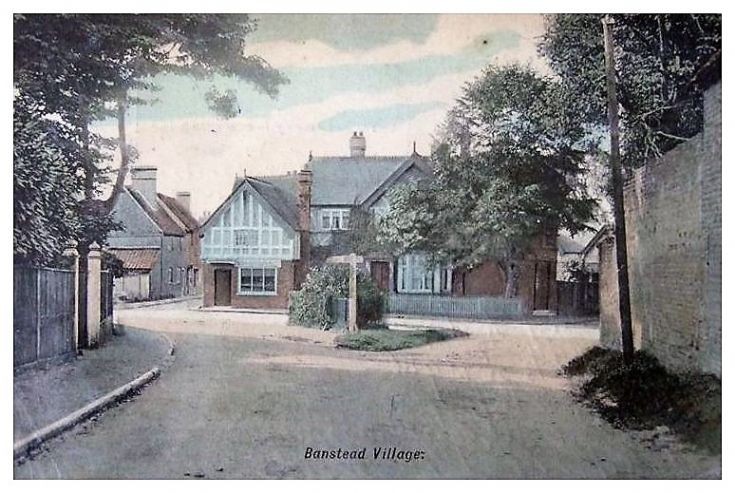 The Banstead Image Library
Eastern End of Banstead Village
HIGH STREET / SUTTON LANE, BANSTEAD, c1905
View looking towards Hodges Dairy and a very narrow Sutton Lane (ahead) and the eastern end of the High Street (left).
The lane ahead on the left of the dairy was Salisbury Court, better known today as Salisbury Road, though the entrance was blocked off and rerouted around the 1960's when much of this area was demolished.
Banstead War Memorial was erected c1920, just after WWI.
The grounds of Longcroft lie behind the fence on the right. [but see note from LNW Below] The 1901 census lists a banker Robert Wigram, his wife Mary Edith, children and eight servants as the occupants here.
Longcroft is still here today, and is currently a doctor's surgery, but its grounds are much smaller.
Over to the right and behind us would be the boundary fence of the former Well House Farm.
Sir Daniel Lambert, who was Lord Mayor of London in 1741, was living here back then.
Well House Farm was demolished around 1960 and replaced by flats.
Nothing of this view remains today, apart from the much wider roads !
NOTE FROM LNW: Hello David, I would have said that the wall on the right hand side was the boundary wall of Well House and not Longcroft. The War Memorial was originally erected on the triangular area where the signpost is shown on this card and unveiled on the 5th June 1921. It was moved in September 1996. The triangle shown in this card was not used as a roundabout and two-way traffic was in operation on all sides however there was not much of it in the early 1900s!
Picture added on 30 December 2017 at 12:29
Comments: