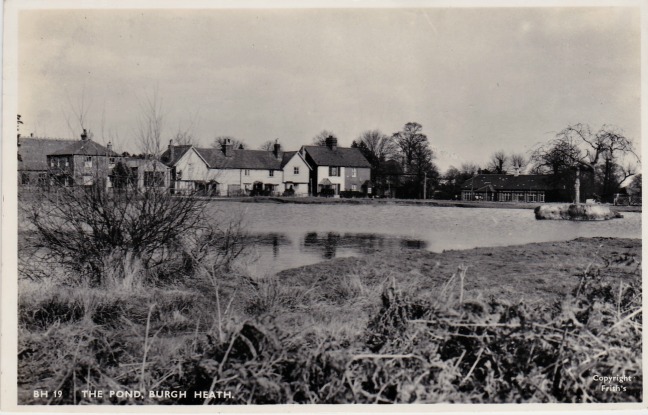 The Banstead Image Library
Burgh Heath - The Pond
A Frith & Co Ltd postcard of the Pond, Burgh Heath, postmarked 6 June 1959. A nice view of the island and, immediately to the left of it, you can make out the Memorial Hall. Judging by the state of the trees and the vegetation, the image was captured during the winter months.
This postcard was sent to Miss Lavinia Parish in Kingsbridge, Devon:
"My darling Lavinia, I had quite a good journey home but got held up on the Underground & arrived home about 8PM. It has been very hot here, last night and today it has rained.
"I hope Daddy got his hay in & it did not rain. I hope you will have had a lovely half term, and enjoyed the Party & Circus, also hope it will be fine for the fete tomorrow. When I was a little girl I used to fish in this Pond & slide on the ice in the Winter. Lots of love, Nanny"
Picture added on 06 December 2018 at 16:47
This picture is in the following groups
Ponds