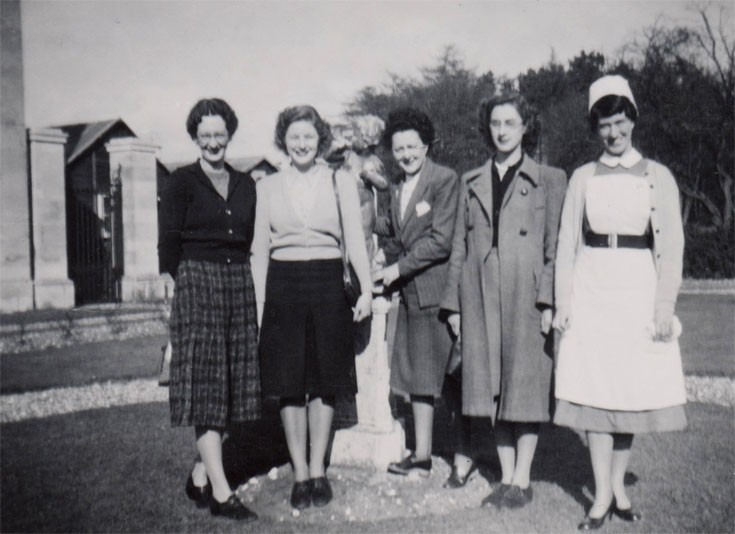 The Banstead Image Library
Unknown ladies at Great Burgh
This group photograph was taken at Great Burgh, Reigate Road, Burgh Heath, in March 1949. From left to right: Isabel, "Me", Frances, Sheila and Sister. This photograph probably came from a house clearance and we don't know the story behind it, can you help?
The building is now used by Leatherhead Food Research, who share the site with Toyota, but when this photo was taken in 1949 it was occupied by the Distillers Co. Ltd. There were many temporary wooden laboratories and other buildings on site, some of which can be seen in this photo. The company had its own medical unit, where presumably 'Sister' must have worked, but who are the other ladies? Were they nurses there in wartime, were they Distillers Co. or Ministry of Supply employees or had they volunteered with the Auxiliary Fire Service who had a station there during the war?
History:
In November 1925 the Distillers Co Ltd Board sanctioned the formation of a central research organisation and in April 1926 DCL purchased Great Burgh for £11,500. This was a Country Mansion standing in 20 acres, adjacent to Epsom Downs. In March 1927 the Board approved the expenditure of £10,000 on buildings and £5000 on experimental plant.
By 1928 the staff strength was about sixty, of whom half were chemists. By March 1949 Herbert Muggleton Stanley was responsible for the joint research programme as a whole and chaired a Petrochemicals Research Committee controlling the experimental work.
Between 1945 and 1947 the Research Department at Epsom was greatly expanded and by the latter date had reached 500 staff.
Source:https://royalsocietypublishing.org/doi/pdf/10.1098/rsbm.1988.0025
Picture added on 18 April 2019 at 20:01